Not in the clamor of the crowded street, not in the shouts and plaudits of the throng, but in ourselves, are triumph and defeat.--
Henry Wadsworth Longfellow
REDIRECT ALERT!
(Scroll down past this mess if you're trying to read an archived post. Thanks. No, really, thanks.)
Due to my inability to control my temper and complacently accept continued silliness with not-quite-as-reliable-as-it-ought-to-be Blogger/Blogspot, your beloved Possumblog will now waddle across the Information Dirt Road and park its prehensile tail at
http://possumblog.mu.nu
.
This site will remain in place as a backup in case Munuvia gets hit by a bus or something, but I don't think they have as much trouble with this as
some
places do. ::cough::blogspot::cough:: So click
here
and adjust your links. I apologize for the inconvenience, but it's one of those things.
You know,
Americans are constantly hectored by our betters in the countries we were thrown out of for our supposed lack of cultural understanding of other societies. But then, you read stuff like this:
Norwegians Confused by Bush Salute
OSLO, Norway - Many Norwegian television viewers were shocked to see U.S. President George W. Bush and family apparently saluting Satan during the U.S. inauguration.

But in reality, it was just a sign of respect for the University of Texas Longhorns, whose fans are known to shout out "Hook 'em, horns [sic]!" at athletic events.

The president and family were photographed lifting their right hands with their index and pinky fingers raised up, much like a horn.

But in much of the world those "horns" are a sign of the devil. In the Nordics, the hand gesture is popular among death metal and black metal groups and fans.

"Shock greeting from Bush daughter," a headline in the Norwegian Internet newspaper Nettavisen said late Wednesday above a photograph of Bush's daughter, Jenna, smiling and showing the sign.

Bush, a former Texas governor, was simply greeting the Texas Longhorn marching band as it passed during a Washington D.C. parade in the president's honor, explained Verdens Gang, Norway's largest newspaper.

Just the same, the Internet was abuzz Thursday with speculation about what the Bushes really mean by the sign.
Silly, ignorant, fraidy-cat Nordic people.
Anyway--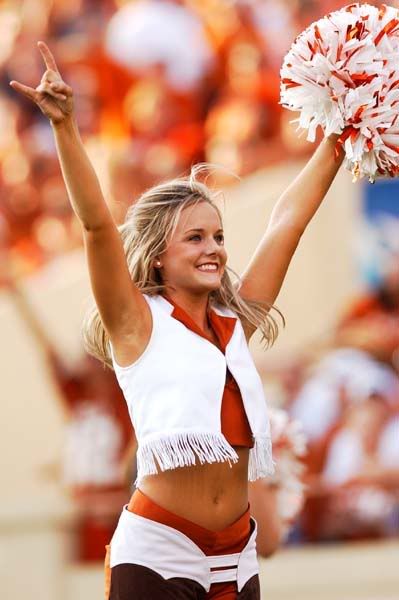 Go Texas.
<10px>10px>
free hit counter
Visits since 12/20/2001--
so what if they're mostly me!