What an odd sort of coincidence.
I was just sitting here enjoying one of my Christmas presents--Bill Monroe & His Bluegrass Boys
The Gospel Spirit
compilation, and it got to the end track and it was quite a surprise.
Way back nearly 20 years or so ago while I was attending Auburn, I went to church one Sunday and we sang a song that I thought was the prettiest and most evocative thing I had ever heard. We'd never sung it before, and I don't recall ever singing it there again later. Or, for that matter, anywhere else since then.
For years now that song has bugged me on the occasions when I would recall it, and every time we would get new song books at church here at home I would expend much futile effort trying to figure out what the song was. The problem was that I could only remember the last line, which was "I am just going over home."
Back when I first got connected to the Internet, I remember doing a few searches for it, but that was before the great wealth of information poured out and became easily searchable using
Google and the like
, and I suppose I just haven't thought to look anymore.
Anyway, the last track came up on the CD player and it hit me like a hammer--the song's called "Wayfaring Stranger." Monroe's version was recorded in Nashville on March 21, 1958, and based on the version of the lyrics pictured below (from
Double Oak Press
).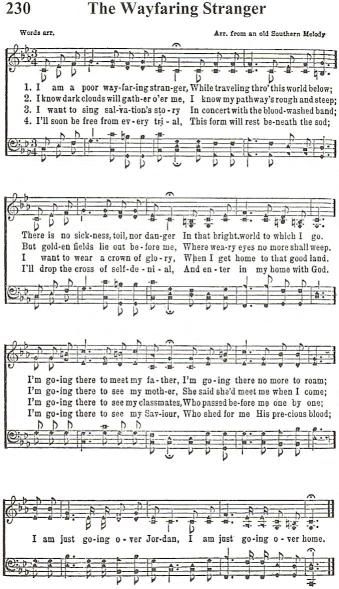 It sounds a bit different with a quartet and instruments as opposed to several hundred people singing it a cappella--more melancholy and haunting with Monroe's "high lonesome"--but it's amazing how it triggered so many memories from what has now become so long ago.
<10px>10px>