16-13
Well, it's in the history books now--Auburn's first 13-0 season in 108 years. Congratulation to the young men and everyone associated with the program on a terrific achievement.
I managed to tear myself away from Antiques Roadshow to watch the game, and I had a stunning realization about the second quarter or so that I had been
much
too hard on the CBS broadcast team over the past year for being so patently, obviously, passionately anti-Auburn. ABC was much, MUCH worse. The disappointment with the outcome was blatantly open.
Whatever.
I will say that Bobby Bowden's son Lil' Motormouth (himself the coach one of the few other undefeated teams in school history) was very gracious about his former place of employment--he was done in by some chicanery himself as Tuberville was almost done last year, and he would have every right to sound petty and bitter, but he was very complimentary and balanced in his commentary on both Auburn and Va Tech's skills and gameplay. The rest of the crew was a joke, however.
The game itself wasn't pretty. Auburn played well enough to beat the 9th rank team in the country and no better. The Hokies were clearly outgunned, even if they did manage to get themselves some points on the board. Worse, though, they tried to make up for their lack of oomph with what looked to be an awful lot of futile trash talk, pushing and shoving after the ball was down. You can always tell when a team is frustrated with their ability by how much of that crap they engage in--it's one thing to be happy and excited with a good play, or with beating the tar out of the other team with good solid hits--but it's bad form to attempt to make up for your lack of skill by playing dirty. It makes you look like small-timers who don't belong.
Kenny Smith
has
written
passed along a a nice piece
written by Susan Smith of AU's sports information director's office
about the win and the season:
AUBURN, AL (Jan. 3, 2005) - Before the 2004 Auburn Tigers football season began, Carnell Williams spoke about his true reason for playing another year with the Tigers instead of heading for the NFL: "I didn't come back to win a Heisman. I came back to win a championship."

And so the Tigers did. They won the Southeastern Conference Championship, went on to win a BCS Bowl to go 13 and 0 for the first time ever and, as far as the Auburn faithful are concerned, are the unofficial national champions, too.

In celebration of that spirit, and the winningest season in AU history, an AU "Championship Season" logo is now available on select merchandise. A portion of the proceeds from the sale of the championship merchandise will support AU student scholarships.

The logo depicts a stirring, familiar sight to AU fans all over the globe: a football player waving a giant AU flag after winning a game.

"This perfect season mean so much more than 13-and-0," said AU head coach Tommy Tuberville. "It has shown the meaning of a perfect team, working for a common goal, not for the individual success of a few. While the results were perfect, the heart behind those results is what makes the entire season special."
Indeed so, although this is one fan who has resigned himself to Auburn
not
being the national champions, unofficial or otherwise. It's either Oklahoma or USC (I know
a certain reader is pulling for OK
, although I have an oft-linked affinity for
the Trojan's Song Leaders
) but I will be awfully angry if Auburn isn't number 2. (Given the perversity of the way things have gone, I would not be surprised to wake up tomorrow and see that Auburn has been demoted in favor of Utah. Or Texas or Cal, for that matter.)
But, no matter, it has been a good year, and a nice way to get beyond the distemper of last year.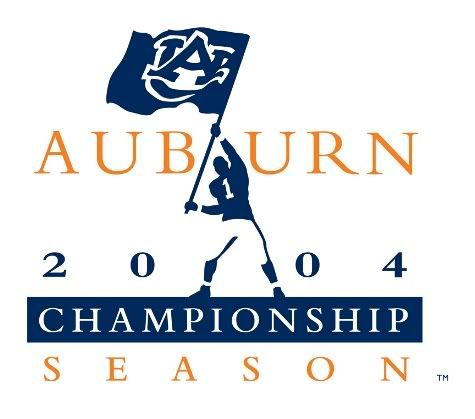 Correction to story attribution posted at 2:20 p.m.
<10px>10px>