Not in the clamor of the crowded street, not in the shouts and plaudits of the throng, but in ourselves, are triumph and defeat.--
Henry Wadsworth Longfellow
REDIRECT ALERT!
(Scroll down past this mess if you're trying to read an archived post. Thanks. No, really, thanks.)
Due to my inability to control my temper and complacently accept continued silliness with not-quite-as-reliable-as-it-ought-to-be Blogger/Blogspot, your beloved Possumblog will now waddle across the Information Dirt Road and park its prehensile tail at
http://possumblog.mu.nu
.
This site will remain in place as a backup in case Munuvia gets hit by a bus or something, but I don't think they have as much trouble with this as
some
places do. ::cough::blogspot::cough:: So click
here
and adjust your links. I apologize for the inconvenience, but it's one of those things.
Famous art collector and tractor enthusiast
Dave Helton
notes the
recent theft
of Edvard Munch's "The Scream" from the Munch Museum in Oslo, Norway. Despite Dave's assertion to the contrary, the painting is still missing, and he sends along this reproduction to let you all know what to be on the lookout for.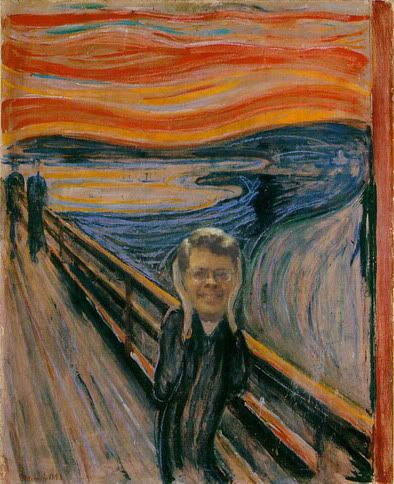 (Dave is quite insane, you know.)
Thanks for yet another fine Photoshop effort, Dave. By the way, in an art related sort of post, did you know that Edvard Munch was the inventor of
Crunch 'n Munch
, and later sold the idea to
ConAgra
for $100 and the promise of a lifetime supply?
<10px>10px>
free hit counter
Visits since 12/20/2001--
so what if they're mostly me!